Here's Mr. Wonderful, in case you haven't seen him...
He's about 3 1/2 weeks old and I've finally gotten in a groove with him and am able to find some scrappy time! He sleeps in his bouncer in my crafty room while I cut, glue and tape away!
Okay, so it's not MUCH that I've gotten done, but its SOMETHING.
So, still working on our Cali vacation.
Don't ask me what my thought process was here.... it was a few days ago and I've changed so many diapers since then. Ha!
But its about walking allll the way from Ghiradelli Square to Pier 39, and about how CUTE my husband his with that dog in his hoodie. Nothing about my pirate friend. He's just kinda there... hangin' out..
I really shoulda made the yellow strip in the second page an arrow too, but I was being quick.
I am happy with my framey thing, although I need a cart with a thinner frame. That frame is from the Cindy Loo Cricut Cart, which has a whoooole bunch of frames, but they're all pretty fat! I also feel like I should have had something behind that framed pic. Black strips? IDK..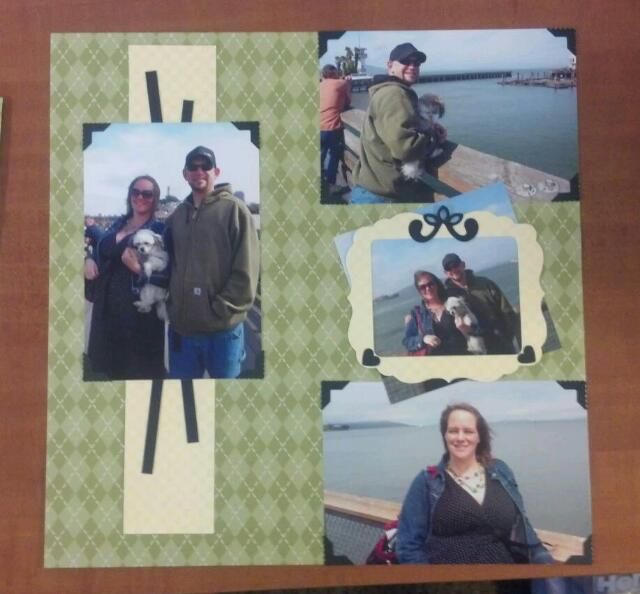 This page was based on a
Page Maps
sketch. I don't usually do Page Maps because the pictures generally don't take up much of the page, and I usually have so many pictures. But this was a page I only had one picture for, and Page Maps sketches are really nice, so I did it! Plus, on my scrapbooking board we had a challenge to do something we don't normally do. I don't normally do Page Maps, one picture layouts, or big patterns. I think it came out nicely.. I'm happy with it!

This is the sketch it was based off of:
And that's it from this scrappy girl for now! I hope to have more very soon!!