Sunday, July 3, 2011
Alright so these aren't in chronological order, and they're not all the same size. But whatev! Enjoy!

Some Easter 2011 pages!

(Waiting on a print, obv!)
My next post will get us caught up on what I've done in my childhood album, then we'll be all caught up!
Picking up where I left off......

A trip to the Grand Canyon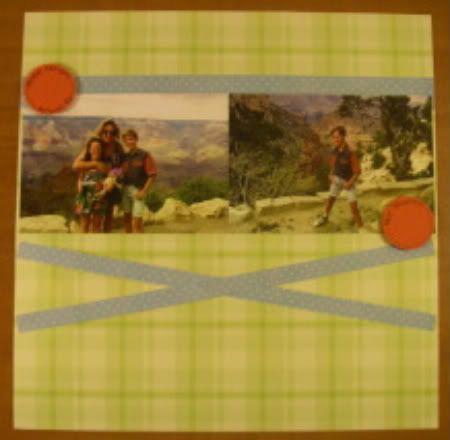 I forgot to take another picture once I added the missing picture, so just imagine a picture in that big brown square, kay?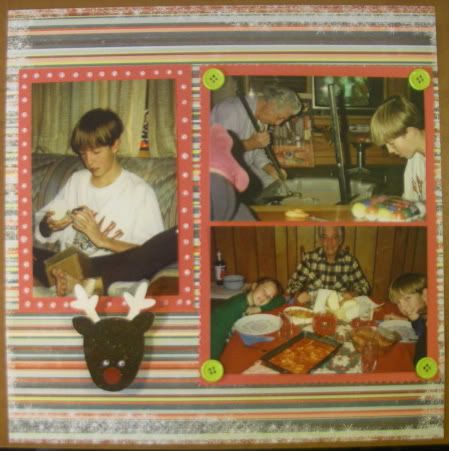 Fashion Shows weren't the only perk we got from a mom in charge at Wal Mart.... oh no, we also got to be in parades quite often! As you cans ee below, we even got to wear a box and go as a Christmas present. Weren't we.... lucky? Well it makes for a funny photo at least. :)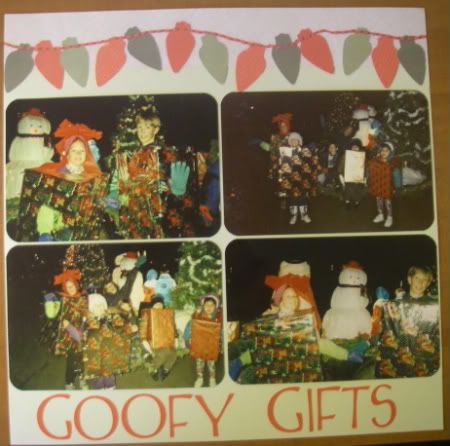 Hahaha... it's fun making a scrapbook for your brother, because you get to tease him a little. Look at these stud muffins, trying to pose all sexy like! He was about 15 at the time. I took these pictures, and had the hots for the one in the middle in the top left pic.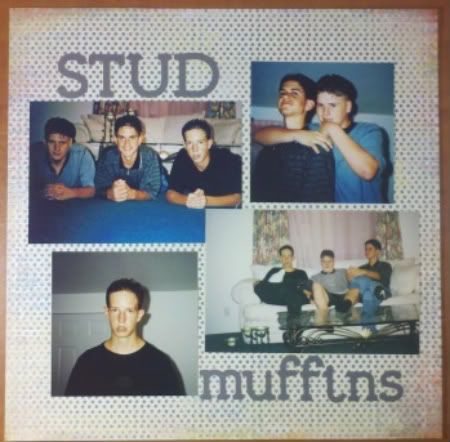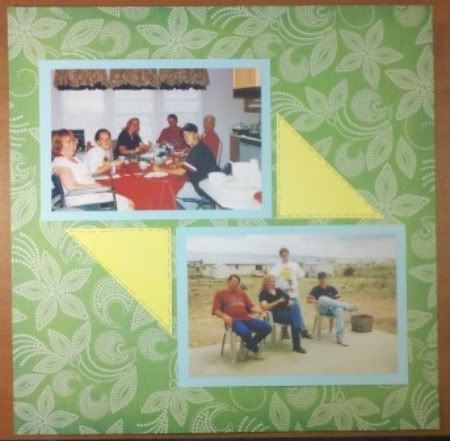 I guess these got a little out of order. The above was 96 or 97 I believe, the below is 98. I'm not about to try to reorganize!
Alright this page is one of my favorites. There was a springtime challenge to use a bird, a flower, a tree and the color green. I did all that, but there is nothing springish about this page! The distressed background paper is green but you can't really tell in the picture. My mom took us to see the house and church where that movie The Birds was filmed. I whipped out my October 31st Cricut cartridge for the creepy birds and the tree. I made the flower from a Cricut cart but used distressing ink on it (Robin's idea- thanks!) and I think the page came out great! :)
The second two page layout for his book!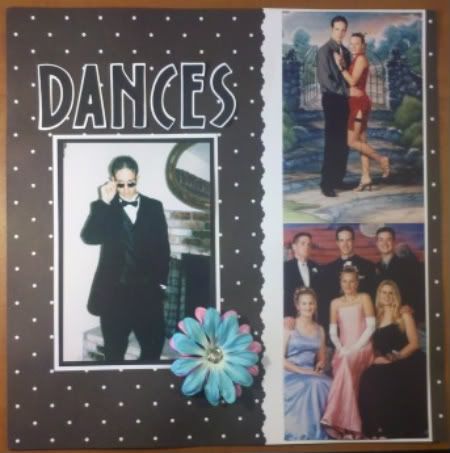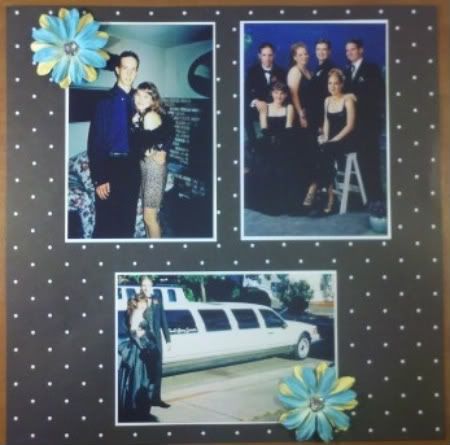 He and Mom surprised me on my 17th birthday in many ways! The best surprise wasn't the car, it was him being there! (By then he had moved out and lived about 8 hours away)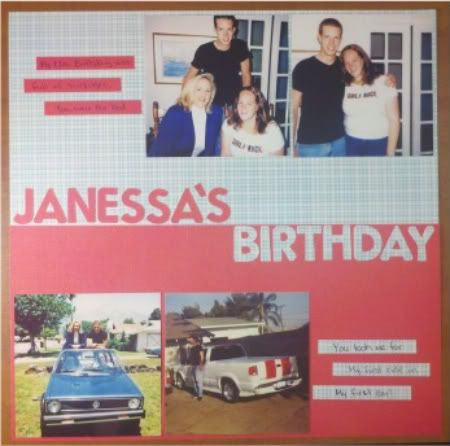 Hate the title on this page because you can hardly see it! :( "Raindrops Keep Fallin' On My Head" because we went to Great America and it rained most of the day, and they played that song (and other songs about rain).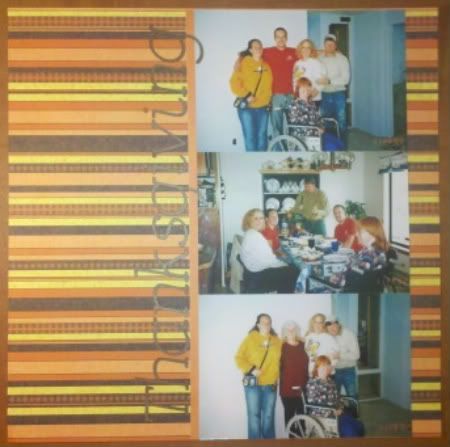 My moms wedding! It was a very small family affair, just the four of us. My brother sang. Also we just jumped from 2003 to 2005... Funny how that happens.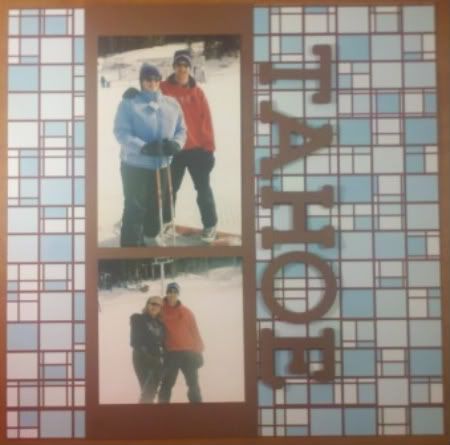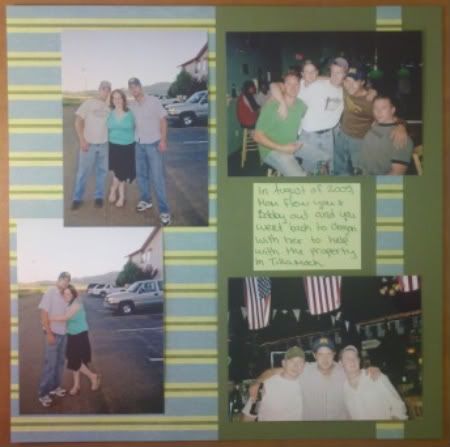 And now my beautiful neice Nicole is in the picture! (Finally a girly page!!)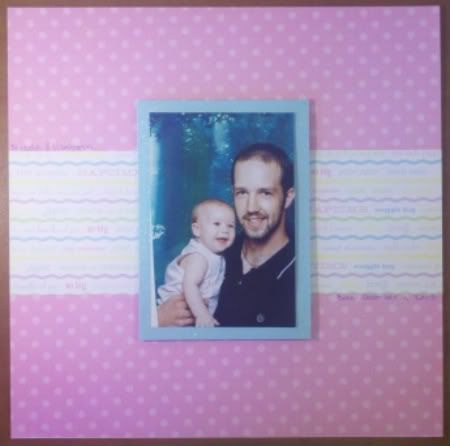 And this was the first time I met her, she was about 11 months old (Nov 2006).
I love my watermelon corners here. (Stretch Your Imagination cart)
April 2007, the first time my mom met her! We all got together in Vegas!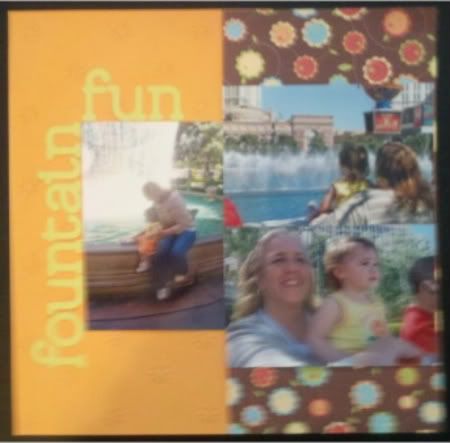 I don't know the previous page is so blurry (oops!)
Check out the faux embossing. I used a flower punch on the same colored paper to create this look.
The last page from this visit.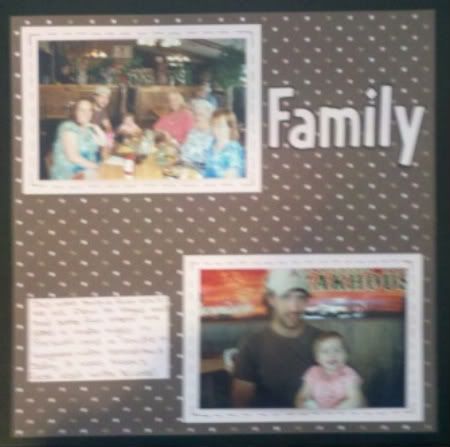 And jumping ahead to August 2008 when he and Nicole visited my Mom in Oregon. I was so jealous that I couldn't be there!
June 2009, my wedding!
The day after my wedding, we went to Sunsplash. It's a water park we used to go to a lot when we were kids. So. Much. Fun. I even let my brother bring his best friend (who he never gets to see!)
Some gems I stold from Facebook. The picture quality isn't great when you print pix like that, but they needed to be in the book! And I loved making this page because I pulled inspiration from her swim suit!
(FB stolen)
Rockin' out with his band (FB stolen)
(FB stolen)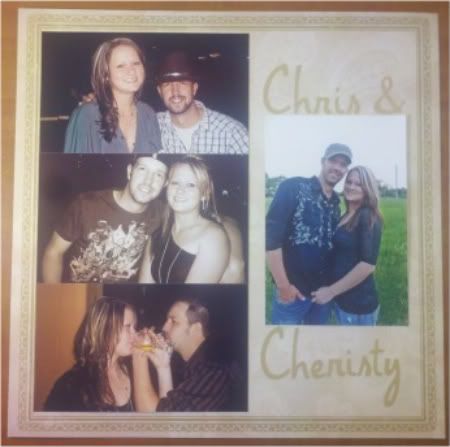 And the final page... images stolen from FB. His photographer friend Tiffanie Massey took these pictures just a few months ago, and I figured it was the perfect way to end the album!
So there you have it! 30 years in just over 100 pages and two posts.
If you couldn't tell, I love my Bubba!